Our comprehensive feature-set built using proven technologies is designed to offer scalability, security and flexibility to manage customer identities and data.
Fraud and Anomaly detection
cidaas uses predictive factors and Big Data analytics to verify customers and detect Fraudsters. It provides built-in tools to detect anomalies and stop malicious attempts to access your application. Anomaly detection can alert you and your users of suspicious activity, as well as block further login attempts. You can set your preferences on the notifications that get sent and you can decide whether to block a suspicious IP address or not.
Social login & registration
Users can easily register using their preferred social network account
The cidaas social media registration feature allows the end-user to register for a cidaas identity using his trusted social media account. This means much more comfort for the users: not having to create one more userId / password combination, the registration is automatically filled out and even the confirmation by e-mail is no longer necessary.
The list of Social Providers cidaas currently supports:
Amazon
Facebook
Foursquare
Github
GooglePlus
Google GSuite
Instagram
LinkedIn
Microsoft (Live)
Microsoft Office365
Paypal
Salesforce
Twitter
WordPress
Yahoo
Based on the customer's preferences, additional social providers can be configured.
Multifactor authentication
Additional security not just in cases of suspicion of a malicious access attempt -for your services and the end users. The cidaas 2 factor authentication verifies the users identity through a second channel to ascertain the legitimacy of an access request.
Users verify their identity with a one time code that is sent either as an SMS or over voice call or using pathbreaking face or voice recognition or their finger print.
Multifactor Authentication is becoming more and more important. Which is why cidaas with its free Authenticator App – is offering an even stronger, passwordless user authentication. A clear plus for user-friendly access to your services. cidaas also supports the Google Authenticator App.
Single Sign-On (SSO)
Users are able to sign in to all of the client's services using one single identity.
The cidaas SSO allows the user to access all content and services of the provider on different portals without having to log on again after a single login.
If the user changes to another service, the access is checked by the cidaas SSO. When successful, the user gets access to these resources.
User de-duplication
Our Big Data analytics tools learn from the user profiles and recognize duplicate user profiles, during the registration itself. Only a single identity of the user is stored.
Passwordless Authentication
With the biometric authentication of cidaas, passwords are no longer necessary and the customer login becomes much more convenient. With a one-time password (OTP) sent to the registered email or mobile phone number, the end user gets access to a selection of various biometric authentication options on the cidaas authenticator.
This improves the user experience at all levels, since users will only need an email address or phone number to register for your application.
This means, your application will not need to implement a password-reset procedure and users avoid the insecure practice of using the same password for many purposes.
The user-selected access authentication is automatically validated and used also for future authentication.
Password Management
Password policies can be defined in cidaas where you can customize the level of enforced complexity for passwords entered during user sign-up for classic registrations. cidaas offers 5 levels of security to match OWASP password recommendations and further options such as "prevent personal Info" for e.g that enhances the policy and ensure that users have more secure passwords.
Optional Integration into your existing AD/LDAP systems
cidaas offers the possibility to integrate LDAP systems as login provider. Initially you have the option to integrate your employees and legacy systems and finally get a smooth transition to the de facto Standard OpenId-Connect and OAuth2.
Individual protection of all channels of your company
Create dedicated authorization profiles for each channel, there by protecting your resources, which are then integrated using cidaas' authentication and authorization mechanisms.
A clearly designed user interface simplifies the management of all security settings for administrators.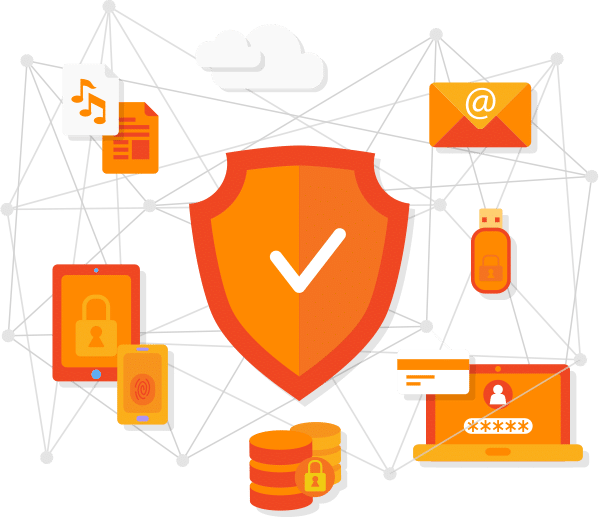 Device Management
With the device management feature, you know not just your users, but also their devices. In the time and age of Internet of Things and an increasing number of connected devices, your customers use many devices, even simultaneously. With cidaas you recognize these. It is your perfect digital transformation driver.
E-mail opt in
Automatic Email verification after registration.
The cidaas E-mail opt-in provides an additional layer of security towards validating a user's authenticity. After registering successfully the user will be informed that an E-mail with further instructions has been sent to the registered E-mail address. This Mail contains a link that the user is prompted to click in order to verify his contact information.
The cidaas system automatically generates a unique link including a customer specific redirection to a pre-configured landing page that sends confirmation about the executed opt-in back to the system.
After successfully registering, the user receives an opt-in mail from the system. If the contained activation link is not acted upon within a defined time frame, cidaas will send a reminder prompting the user to finalize his registration process through opting-in.
Client specific custom fields in user data
cidaas offers a variety of freely definable user fields, which can easily be added specific to your company requirements.
These fields can be completed either during registration or during editing of the customer profile. Through OpenID-Connect the authorised clients can retrieve this information from cidaas.
User Self Services
Registered users can manage their account in a dedicated cidaas user-site themselves.
This can be used to reset passwords, change passwords, set up 2-FA settings and if necessary, edit address information. In some cases, more can be changed in the corresponding database entry.
Secure your Portals and Web-APIs by using OAuth2 -Keyword PSD2
cidaas provides comprehensible and reliable OAuth2 services to protect, manage and monitor your APIs.
cidaas B2B – Expand and secure your customer base many folds!l
The new cidaas B2B module allows you to manage your business partners. In addition, your partners and suppliers can also manage their users and business partners. This way, all participants have an effective control over assignments, roles, and permissions. You in turn will learn more about the employees of your partners and customers.
Integration of cidaas in your business processes
New technology and high security standards – smoothly integrate cidaas in your businesses processes
Businesses today are in direct contact with several players, exchanging sensitive information over different channels in their business environment. Employees accessing using mobile devices, inquiries from customers and partners, or third-party public interfaces make the corporate networks vulnerable to data theft. Secure API interfaces and unique user identification are of utmost importance here. For the APIs, our customer identification and access management ideas uses identity standards such as OpenID Connect and OAuth 2.0.
A unique identity of each user is established using one of the most advanced multi-factor authentication and Big Data technology. With these high security standards, cidaas can be deployed seamlessly and without any problems in any company. Whether customer portals, partner and employee portals, equip your company for the future with our intelligent customer identity solution that well suits your B2C, B2B and B2E needs.
Our cloud service offers you a fast and easy integration with already existing components for social login, registration and single sign-on.
Select the Package That's Right for You
Transform your business with the power of our Customer Identity Management Solution, cidaas!