cidaas – Our Awards
We are proud to be the leading European Cloud Identity & Access Management. We are pleased about the awards and prizes that we have been able to celebrate together with our customers.
Award-winning Cloud Identity & Access Management – cidaas
Product & Innovation Leader – CIAM Leadership Compass 2022 by KuppingerCole
The KuppingerCole Leadership Compass 2022, which is published every two years, provides an overview of the market for Consumer Identity & Access Management solutions and serves as a guide for companies to find the best CIAM solution for their needs. cidaas was again able to successfully position itself in the market as the leading European Customer Identity & Access Management and was awarded as Product and Innovation Leader.
Award-winning Cloud Identity & Access Management – cidaas
The "European Identity and Cloud Award" is one of the most coveted awards in Europe for innovative projects and developments in the field of Identity & Access Management, awarded by the analysts of KuppingerCole. cidaas has already received the coveted award several times in recent years for various customer projects.
Award winner EIC 2023
Together with Creditplus, cidaas wins in the category "Customer & Partner Authentication" again the coveted EIC Award 2023 this year, now for the third time in a row. With cidaas, the modern cloud identity & access management platform, Creditplus has created the foundation for the digital future.
In the past two years we have already been able to celebrate this success with our customers Europa-Park and Kaufland – with our customer Creditplus we were able to complete the hattrick this year.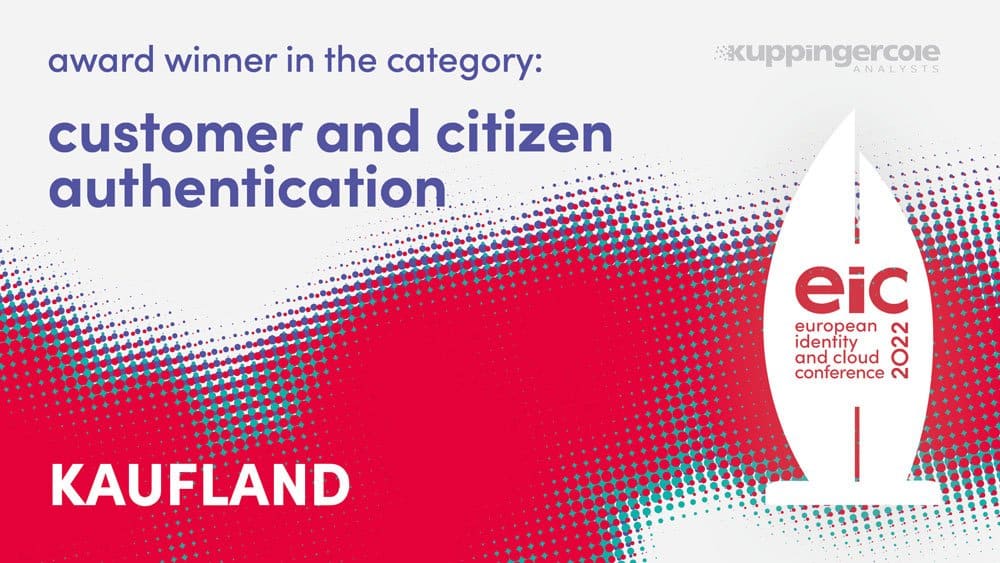 Award winner EIC 2022
Kaufland won the EIC 2022 Award in the Customer & Citizen Authentication category with cidaas and was honored with the award for the second time in a row. The focus was on the Kaufland Card, which, with the help of the appropriate CIAM solution cidaas, creates a uniform identity across all channels and links the digital and stationary worlds, thus improving the customer experience.



Award winner EIC 2021
Europa-Park and cidaas won the EIC Award in the Customer Identity and Access Management category in 2021 with the login service MackOne. MackOne is the central registration service of Europa-Park Erlebnis-Resort and offers users an easy and secure access to digital services like ticket store, online store and mobile apps. MackOne was realized with cidaas CIAM and uses many innovative features of the cidaas platform.

You can also find us here
You have already worked with us? Then we would be
pleased to receive your feedback on one of the platforms!
We are grateful for the EIC Awards in the last years, as well as the consistently positive reviews on Capterra and G2.
In 2020, we were also on initiative Mittelstand's IT Best List, which confirmed what we are doing.
KuppingerCole also reports positively about cidaas in an analyst report.

cidaas – Europe's leading Customer Identity & Access Managements on the market!
Certified quality