It's time to learn german!
Why is it important to learn german? To help you to learn German, we have compiled your personal cheat sheet with the most important terms.
Your german language cheat sheet
To help you to learn German, we have compiled your personal cheat sheet with the most important terms.
EIC Award Winner 2021 I 2022 I 2023 🏆
Our innovative Cloud Identity & Access Management has won several awards. In addition to great ratings on review portals like Capterra and G2, we are also pleased to have won the coveted EIC Award three times in a row – in 2021, 2022 and 2023 – with Europa-Park, Kaufland and Creditplus. We were also recognized as a Product and Innovation Leader in the latest CIAM Leadership Compass (2022) by analysts at KuppingerCole. Get started with the leading Cloud Identity & Access Management from Germany.
cidaas Awards & certified Quality
Why choose cidaas
One identity across all channels
cidaas standardizes what is important and simplifies what is complex. cidaas is the optimal solution for fast and secure identity management. Thanks to cidaas you create one identity per user across all your channels.
Always up to Date
We continuously develop cidaas and update your service package on the fly. This way you always benefit from the latest features of cidaas.
EU GDPR compliant
As the leading European Cloud Identity & Access Management with European hosting and many features for the implementation of the DSGVO.
Highest security!
Protect against unauthorized access and identity theft with fraud detection and Adaptive Multi-Factor Authentication.
Awarded several times
Already three times in a row we have been awarded the prestigious EIC Award by KuppingerCole in 2021, 2022 & 2023 together with our customers Europa-Park, Kaufland and Creditplus.
Voices of our happy customers
Before we decided to use cidaas, we had already tested several identity management systems and had already worked with another provider for several years. However, none of the other systems could meet all our requirements "out-of-the-box". With cidaas we have now found the optimal software suite for us, which, thanks to state-of-the-art technology, has completely implemented our requirements in only 3 months project time. cidaas delivers what it promises and is fast, secure and unrivaled Swabian.
Alexander Mietzke
Head of Digital Technologies | REHAU AG + Co.
The success of MackOne would not have been possible without the great minds at cidaas, who accompanied us from the initial concept phase to implementation. At this point, a big thank you to the entire cidaas team for their support on this exciting journey. I think that their performance and expertise were fundamental to the success of this project.
Michael Schempp
Teamleader Digital Development – MackOne | Europa-Park Erlebnis-Resort
On the way to a unified CIAM for the Schwarz Group, cidaas has proven to be a trustworthy and competent partner. The switch from open source to cidaas enabled us to connect end customer touchpoints even faster and more flexibly & to create a unified customer experience.
Bastian King
Managing Director Marketingsysteme | Schwarz IT KG – Lidl, Kaufland
With cidaas we found the right solution for Creditplus. cidaas meets our requirements out-of-the-box and the integration of cidaas into our IT landscape as well as the use of the extensive APIs was impressively easy.
Peter Ranis
Head of IT Development | Creditplus
Digitization in the insurance industry has gained extreme speed and we are experiencing a rapidly growing number of users on our digital services. Introducing cidaas now was the right decision at the right time for us to get started with our next ideas and innovations.
Stephanie Kern
Business Development | die Bayerische IT GmbH
We chose cidaas because the flexible CIAM system helped us easily migrate to an advanced, digitized world. For example, by means of an individual connector, we can integrate existing user accounts into the Customer Identity Management system. Through cidaas, our private and business customers can always and everywhere stay in touch with us – no matter which channel, which device or app and integrate all new services. With cidaas, we have found the right solution for us.
Tobias Baumgart
Director eCommerce Platform | Conrad Electronic SE
In times of mobile devices, decentralized systems and the cloud, the issue of identity management in the digital space is becoming increasingly important. cidaas is the ideal IDaaS solution for us to drive forward the digital transformation in our corporate structure. cidaas not only offers us increased operational efficiency, but also improves the user-friendliness of our channels. We are delighted to have cidaas as a strong partner in the field of identity and access management.
Dirk Semmler
Head of IT | LORCH Schweißtechnik GmbH
Our Digital Business Infrastructure is an enabler for the entire Mundschenk Group, it enables us to create digital business models quickly and with high quality – as we have been doing at Mundschenk for 150 years. We are happy to have a competent partner at our side with Büro am Draht and with cidaas an innovative Cloud Identity & Access Management!
Martin Mundschenk
Managing Partner | Mundschenk Group
EIC 2023
Visit us at EIC 2023!
As Europe's leading Cloud Identity & Access Management, cidaas is continuously present at the European Identity and Cloud Conference organized by Kuppinger Cole – this year again as Platinum Sponsor.
The European Identity and Cloud Conference 2023 will take place from May 09 to 12 in Berlin, Germany. The focus this year will be on core topics such as: Protecting Digital Identities; Decentralized Identities: The Way Forward; How Changing Requirements for a Comprehensive Customer Experience Impact Customer Identity (CIAM); The Future of Zero Trust; The Use of Artificial Intelligence in Cybersecurity and Identity Management; The Cloud as a Security Enabler; and many more.
Jobs
cidaas
LOOKING FOR A JOB?
JOIN US
We are always looking for talented and committed people.
Ready for a dream job in IT in an award winning company?
Are you looking for your dream job in the IT sector? Do you like challenges, unconventional thinking and working in a great team?
At Widas Group, we are always looking for new bright minds and motivated talents which can support us at on of our locations in Germany, India, Greece, Switzerland or remote.
We hire the best talent and give them the opportunity to advance, grow, learn, and become a central part of their own and our clients' success. We give everyone who works for us the chance to develop their potential, to actively shape our future and to be proud of their achievements. Our employees are our pride and joy, that is why we offer them a secure job and interesting tasks.
We strive to find the best colleagues to develop the best products and satisfy our customers!
Learning german was of course just a joke but you really need to learn more about cidaas! Why?
Because cidaas is Europe's leading Cloud Identity & Access Management
cidaas is the leading European Cloud Identity & Access Management (CIAM) platform and was created in 2018 by the Widas Group. cidaas is developed and hosted in Germany and is now used by over 100 companies with more than 500 million users worldwide.
cidaas is the optimal solution for your fast and secure Identity & Access Management. Thanks to cidaas you create one identity per user across all your channels. cidaas is based on OAuth2.0 and OpenID Connect standards, provides strong API security and with integrated Bot Net Detection and Fraud Detection a secure journey across all your business channels.
Thereby cidaas convinces with a comprehensive feature set from authentication and Single Sign-On to a perfected group management for mapping family & friends or B2B use cases. cidaas puts a big focus on the topic of data protection and GDPR. As a German company, German contract law is used, including German or European hosting. Even more, cidaas offers many functions, such as a GDPR-compliant consent management, with which companies can easily and transparently implement the requirements of the GDPR. Thus, cidaas is not only the leading European and German CIAM today, but also symbolizes "Single Sign-On from Germany or made in Germany".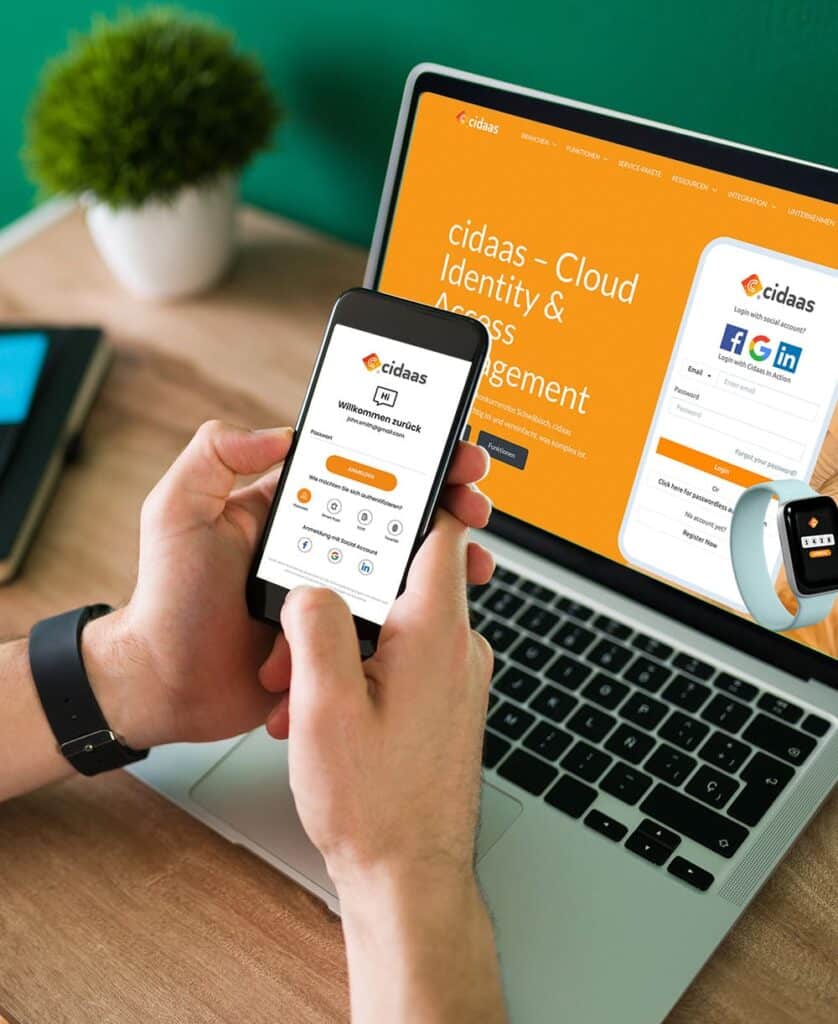 cidaas – Cloud Identity & Access Management (Cloud IAM)
Focus on user-friendly management of digital identities in any form
Unique, secure user experience with modern 2-factor authentication
DSGVO-compliant, individualizable consent management