APRIL.
APRIL.
JUST A JOKE! BUT WHY?
Passwords are no longer enough to protect your valuable digital identity or that of your customers from increased cybercrime. That's why we advocate password-free login alternatives.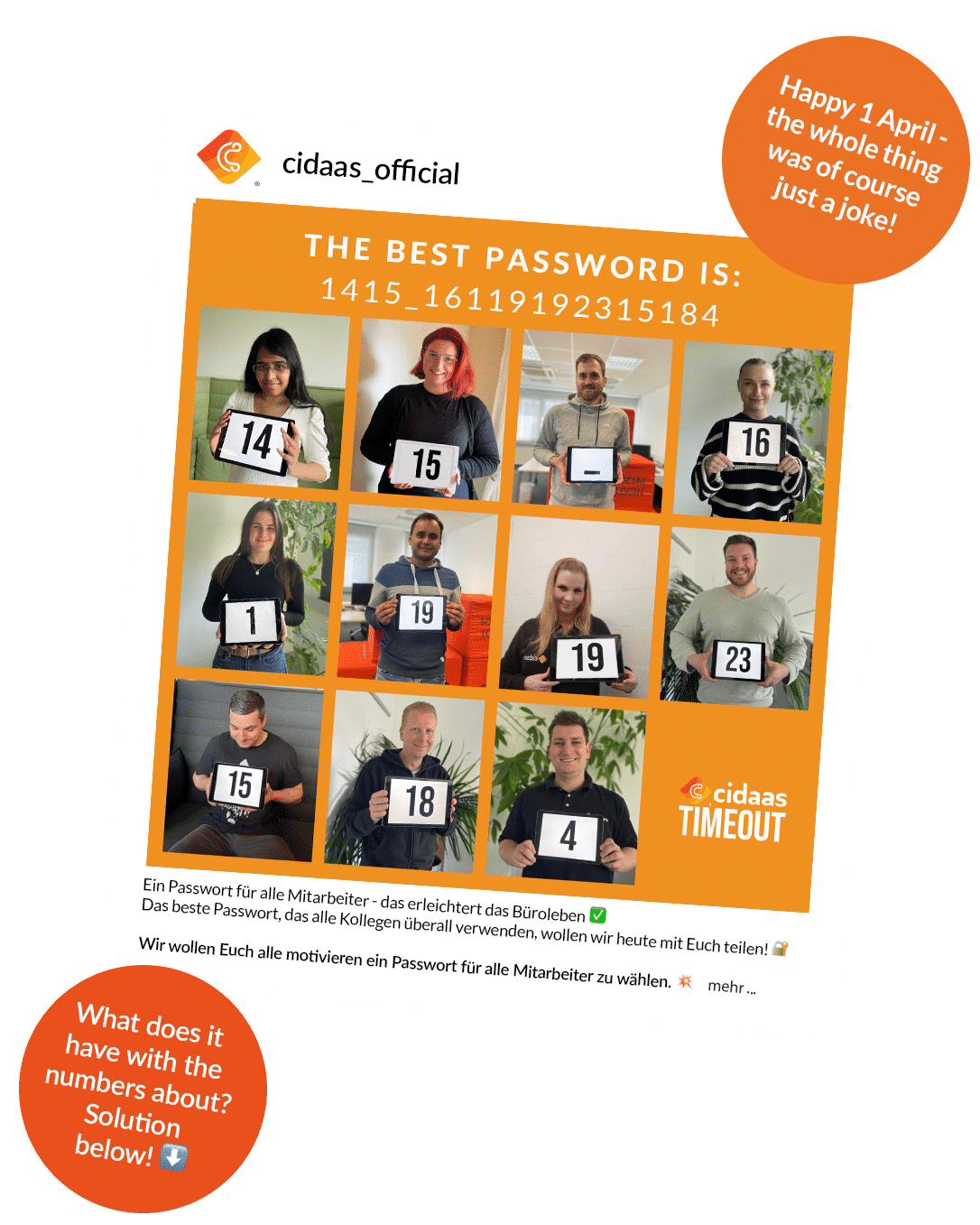 With our April joke, we wanted to take up a very important topic for us and sensitise you to the issue of password (in)security. And of course we don't all use the same password in the company, but try to work without passwords as much as possible.
It's clear that we all still use passwords here and there, be it in our private or business environment – and yes, every now and then they are the same passwords. But there are better and more secure alternatives! That's why we are also committed to passwordless login alternatives with cidaas!
That's why we are also campaigning with cidaas for password-free login alternatives!
THE BEST
PASSWORD IS: 1415_16119192315184
THE BEST
PASSWORD IS:
NO_
PASSWORD
Our suggested password was
a hidden numerical code for:
NO PASSWORD!
It's time to say goodbye to passwords and annoying, inconvenient and expensive password forgetting processes.
Customers, partners, employees – all users need to be securely and reliably recognized across all channels. Passwords are no longer enough to protect valuable digital identities from increased cybercrime.
It is important for companies to take the step towards passwordless authentication today, selecting appropriate methods of authentication depending on the use case and application, in order to achieve the highest level of security and usability.
The trouble with passwords:
Insufficient
security
Uncomfortable
procedure
Expensive password
forgetting processes
Possible passwordless procedures:
Smart-Push
authentication
Biometric
authentication
FIDO2
standard
Do you already know our Bye Password initiative?
GOODBYE PASSWORD, HELLO MODERN LOGIN!
Nowadays, users have to remember countless passwords and PINs. Since this has become almost impossible, they regularly use the same passwords, naturally with a queasy feeling, change the password only slightly or use simple, easy-to-remember combinations.
Get in Touch
Let's talk about identities and authentication 🙂
Inspire your users with modern, password-free procedures. With this, you create security, comfort and give your users a trustful, good feeling.